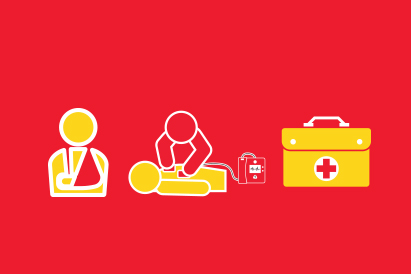 PROVIDE FIRST AID - REFRESHER
Duration - 1 day
Cost - $116 NEW, special price - $110!
This course provides candidates with the knowledge and skills needed to manage emergency first aid situations and deliver competent emergency care until the arrival of professional medical support. Once completed, candidates will obtain a first aid certificate that is valid for three years.
The Provide First Aid course is nationally recognised WorkCover approved training.
Course Content
Legal Issues and Infection control
DRSABCD action plan
The principles of first aid and its applications
Recognition and management of emergency situations
Cardiopulmonary Resuscitation (CPR) and Defibrillation
Treatment of shock, infection, fractures, bleeding and burns
Emergencies due to lack of oxygen, excess heat or cold
Recognition and management of medical conditions that may need emergency care, including heart attack, stroke, asthma, diabetes and epilepsy
Management of common medical emergencies
Treatment of poisoning including venomous bites and stings
Assessment
This course is assessed through demonstration, presentation and application of all elements of competency in the workplace. Candidates will be required to complete activities that may include role-plays, oral and written questioning, practical demonstrations and performing scenarios. *Please note, it is a requirement of this course that practical demonstration of CPR must be performed on the floor.
Accreditation
Upon successful completion of the course, candidates will receive a nationally recognised training statement of attainment for the following unit of competence: HLTAID003 - Provide first aid *Note: This unit of competence incorporates the content of:
HLTAID001 - Provide cardiopulmonary resuscitation (CPR)
HLTAID002 - Provide Basic Emergency Life Support
Validity
Three (3) years from date of course. It is recommended by the Australian Resuscitation Council that the CPR component of this course be updated every 12 months.
Target Audience:
Learning Outcomes:
Learning Methods:
Program Benefits:
Content:
---
Upcoming Workshops
| | | | | | |
| --- | --- | --- | --- | --- | --- |
| Name | Date | Time | Location | Available Spaces | |
| Provide First Aid Requalification | 25 July 2019 | 08:00 am - 05:00 pm | 20 Leighton Beach Bouvelvard, Fremantle | 10 | |
| Provide First Aid Requalification | 27 July 2019 | 08:00 am - 05:00 pm | Suite 3 Alkimos Beach Medical Centre Building Graceful Boule | 14 | |
| Provide First Aid Requalification | 15 August 2019 | 08:00 am - 05:00 pm | Balcatta SLSWA | 6 | |
| Provide First Aid Requalification | 24 August 2019 | 08:00 am - 05:00 pm | Suite 3 Alkimos Beach Medical Centre Building Graceful Boule | 16 | |
| Provide First Aid Requalification | 27 August 2019 | 08:00 am - 05:00 pm | 20 Leighton Beach Bouvelvard, Fremantle | 16 | |
| Provide First Aid Requalification | 3 September 2019 | 08:00 am - 05:00 pm | Balcatta SLSWA | 16 | |
| Provide First Aid Requalification | 19 September 2019 | 08:00 am - 05:00 pm | 20 Leighton Beach Bouvelvard, Fremantle | 15 | |
| Provide First Aid Requalification | 9 October 2019 | 08:00 am - 05:00 pm | Balcatta SLSWA | 16 | |
| Provide First Aid Requalification | 22 October 2019 | 08:00 am - 05:00 pm | 20 Leighton Beach Bouvelvard, Fremantle | 15 | |
| Provide First Aid Requalification | 12 November 2019 | 08:00 am - 05:00 pm | Balcatta SLSWA | 16 | |
| Provide First Aid Requalification | 28 November 2019 | 08:00 am - 05:00 pm | 20 Leighton Beach Bouvelvard, Fremantle | 15 | |
| Provide First Aid Requalification | 14 December 2019 | 08:00 am - 05:00 pm | Alkimos Pop Up Library | 16 | |