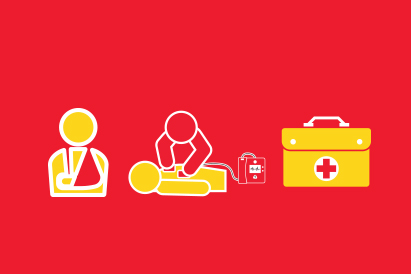 HLTAID003 PROVIDE FIRST AID
(REQUALIFICATION COURSE)
Duration - 1 day
Cost - $116 NEW, special price - $110!
PLEASE NOTE: If you have booked into an HLTAID003 Provide First Aid course, HLTAID001 Provide Cardiopulmonary Resuscitation (CPR) is included in this course. It is therefore not necessary to book into the CPR course separately.
ALSO NOTE: Due to the introduction of the requirement for a USI we are not able to issue certificates on the day of training. We will endeavour to e-mail them to you individually as close to the completion of the course as possible. If you require it urgently please plan accordingly by enrolling in a course that allows a minimum of 10 days for you to receive your certificate.
This course provides candidates with the knowledge and skills needed to manage emergency first aid situations and deliver competent emergency care until the arrival of professional medical support. Once completed, candidates will obtain a first aid certificate that is valid for three years. The Provide First Aid course is nationally recognised.
Course Content
Legal Issues and Infection control
DRSABCD action plan
The principles of first aid and its applications
Recognition and management of emergency situations
Cardiopulmonary Resuscitation (CPR) and Defibrillation
Treatment of shock, infection, fractures, bleeding and burns
Emergencies due to lack of oxygen, excess heat or cold
Recognition and management of medical conditions that may need emergency care, including heart attack, stroke, asthma, diabetes and epilepsy
Management of common medical emergencies
Treatment of poisoning including venomous bites and stings
Assessment
This course is assessed through demonstration, presentation and application of all elements of competency in the workplace. Candidates will be required to complete activities that may include role-plays, oral and written questioning, practical demonstrations and performing scenarios.
There is NO online assessment required for this course. All assessment is completed on the day of the course.
*Please note, it is a requirement of this course that practical demonstration of CPR must be performed on the floor.
Accreditation
Upon successful completion of the course, candidates will receive a nationally recognised training statement of attainment for the following unit of competence: HLTAID003 Provide first aid, HLTAID002 Provide basic emergency life support, HLTAID001 Provide cardiopulmonary resuscitation.
Please note that we are unable to provide certificates on the day of the course. We also do not provide a temporary certificate. We endeavour to issue certificates within 10 working days of the course date. If you require evidence of a certificate urgently we will do our utmost to assist but we cannot guarantee that we will be able to issue the certificate at such short notice.
Validity
Three (3) years from the date of course. It is recommended by the Australian Resuscitation Council that the CPR component of this course be updated every 12 months.
Target Audience:
Learning Outcomes:
Learning Methods:
Program Benefits:
Content:
---
Upcoming Workshops
| | | | | | |
| --- | --- | --- | --- | --- | --- |
| Name | Date | Time | Location | Available Spaces | |
| Public (FSLSC)-Provide First Aid Requalification | 22 June 2021 | 08:00 am - 05:00 pm | Fremantle SLSC - 20 Leighton Beach Boulevard, Fremantle | 3 | |
| Public (Balcatta)-Provide First Aid Requalification | 29 June 2021 | 08:00 am - 05:00 pm | 7 Delawney Street, Balcatta SLSWA | 2 | |
| Public (FSLSC)-Provide First Aid Requalification | 1 July 2021 | 08:00 am - 05:00 pm | Fremantle SLSC - 20 Leighton Beach Boulevard, Fremantle | 3 | |
| Public - (Balcatta) Provide First Aid Requalification | 14 July 2021 | 08:00 am - 05:00 pm | Surf House, 7 Delawney Street, Balcatta | 4 | |
| Public - (FSLSC) Provide First Aid Requalification | 29 July 2021 | 08:00 am - 05:00 pm | Fremantle SLSC - 20 Leighton Beach Boulevard, Fremantle | 4 | |
| Public - (Balcatta) Provide First Aid Requalification | 3 August 2021 | 08:00 am - 05:00 pm | Surf House, 7 Delawney Street, Balcatta | 5 | |
| Public (FSLSC) Provide First Aid Requalification | 11 August 2021 | 08:00 am - 05:00 pm | Fremantle SLSC - 20 Leighton Beach Boulevard, Fremantle | 5 | |
| Public (Balcatta) Provide First Aid Requalification | 19 August 2021 | 08:00 am - 05:00 pm | Surf House, 7 Delawney Street, Balcatta | 5 | |
| Public - (FSLSC) Provide First Aid Requalification | 31 August 2021 | 08:00 am - 05:00 pm | Fremantle SLSC - 20 Leighton Beach Boulevard, Fremantle | 5 | |
| Public (Balcatta) Provide First Aid Requalification | 8 September 2021 | 08:00 am - 05:00 pm | Surf House, 7 Delawney Street, Balcatta | 5 | |
| Public (FSLSC) Provide First Aid Requalification | 17 September 2021 | 08:00 am - 05:00 pm | Fremantle SLSC - 20 Leighton Beach Boulevard, Fremantle | 5 | |
| Public (Balcatta) Provide First Aid Requalification | 23 September 2021 | 08:00 am - 05:00 pm | Surf House, 7 Delawney Street, Balcatta | 5 | |
| Public (FSLSC) Provide First Aid Requalification | 30 September 2021 | 08:00 am - 05:00 pm | Fremantle SLSC - 20 Leighton Beach Boulevard, Fremantle | 5 | |
| Public (Balcatta) Provide First Aid Requalification | 7 October 2021 | 08:00 am - 05:00 pm | Surf House, 7 Delawney Street, Balcatta | 5 | |
| Public (FSLSC) Provide First Aid Requalification | 13 October 2021 | 08:00 am - 05:00 pm | Fremantle SLSC - 20 Leighton Beach Boulevard, Fremantle | 5 | |
| Public (Balcatta) Provide First Aid Requalification | 20 October 2021 | 08:00 am - 05:00 pm | Surf House, 7 Delawney Street, Balcatta | 5 | |
| Public (FSLSC) Provide First Aid Requalification | 28 October 2021 | 08:00 am - 05:00 pm | Fremantle SLSC - 20 Leighton Beach Boulevard, Fremantle | 5 | |
| Public (Balcatta) Provide First Aid Requalification | 10 November 2021 | 08:00 am - 05:00 pm | Surf House, 7 Delawney Street, Balcatta | 5 | |
| Public (FSLSC) Provide First Aid Requalification | 17 November 2021 | 08:00 am - 05:00 pm | Fremantle SLSC - 20 Leighton Beach Boulevard, Fremantle | 5 | |
| Public (Balcatta) Provide First Aid Requalification | 24 November 2021 | 08:00 am - 05:00 pm | Surf House, 7 Delawney Street, Balcatta | 5 | |
| Public (Balcatta) Provide First Aid Requalification | 2 December 2021 | 08:00 am - 05:00 pm | Surf House, 7 Delawney Street, Balcatta | 5 | |
| Public (FSLSC) Provide First Aid Requalification | 7 December 2021 | 08:00 am - 05:00 pm | Fremantle SLSC - 20 Leighton Beach Boulevard, Fremantle | 5 | |
| Public (Balcatta) Provide First Aid Requalification | 19 January 2022 | 08:00 am - 05:00 pm | Surf House, 7 Delawney Street, Balcatta | 5 | |
| Public (FSLSC) Provide First Aid Requalification | 21 January 2022 | 08:00 am - 05:00 pm | Fremantle SLSC - 20 Leighton Beach Boulevard, Fremantle | 5 | |
| Public (Balcatta) Provide First Aid Requalification | 10 February 2022 | 08:00 am - 05:00 pm | Surf House, 7 Delawney Street, Balcatta | 5 | |
| Public (FSLSC) Provide First Aid Requalification | 24 February 2022 | 08:00 am - 05:00 pm | Fremantle SLSC - 20 Leighton Beach Boulevard, Fremantle | 5 | |
| Public (Balcatta) Provide First Aid Requalification | 2 March 2022 | 08:00 am - 05:00 pm | Surf House, 7 Delawney Street, Balcatta | 5 | |
| Public (FSLSC) Provide First Aid Requalification | 10 March 2022 | 08:00 am - 05:00 pm | Fremantle SLSC - 20 Leighton Beach Boulevard, Fremantle | 5 | |
| Public (Balcatta) Provide First Aid Requalification | 16 March 2022 | 08:00 am - 05:00 pm | Surf House, 7 Delawney Street, Balcatta | 5 | |
| Public (FSLSC) Provide First Aid Requalification | 25 March 2022 | 08:00 am - 05:00 pm | Fremantle SLSC - 20 Leighton Beach Boulevard, Fremantle | 5 | |