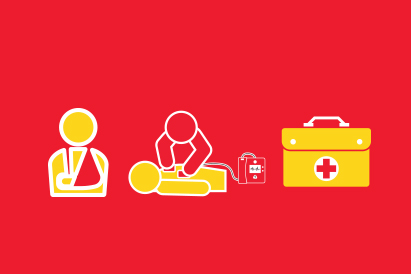 PROVIDE AN EMERGENCY FIRST AID RESPONSE IN AN EDUCATION & CARE SETTING - HLTAID004
Duration - 1 day
Cost - $125
This course is ideal for those who work in the education and childcare industry, as well as parents and carers of young children. The Education and Care First Aid course is nationally recognised training, and has been endorsed by ACECQA as satisfying all education requirements for first aid, anaphylaxis management and emergency asthma training.
Course Content
Legal Issues and Infection control
DRSABCD action plan
The principles of first aid and its applications
Recognition and management of emergency situations
Cardiopulmonary Resuscitation (CPR) and Defibrillation
Treatment of shock, infection, fractures, bleeding and burns
Emergencies due to lack of oxygen, excess heat or cold
Recognition and management of medical conditions that may need emergency care, including heart attack, stroke, asthma, diabetes and epilepsy
Management of common medical emergencies
Treatment of poisoning including venomous bites and stings
Anaphylaxis and Asthma
Assessment
This course is assessed through demonstration, presentation and application of all elements of competency in the workplace. Candidates will be required to complete activities that may include role-plays, oral and written questioning, practical demonstrations and performing scenarios. *Please note, it is a requirement of this course that practical demonstration of CPR must be performed on the floor.
Accreditation
Upon successful completion of the course, candidates will receive a nationally recognised WorkCover approved statement of attainment for the following unit of competence:
HLTAID004 - Provide an emergency first aid response in an education and care setting
*Note: This unit of competence incorporates the content of:
HLTAID001 - Provide Cardiopulmonary Resuscitation (CPR)
HLTAID002 - Provide Basic Emergency Life Support
HLTAID003 - Provide First Aid
Validity
Three (3) years from date of course. It is recommended by the Australian Resuscitation Council that the CPR component of this course be updated every 12 months.
Target Audience:
Learning Outcomes:
Learning Methods:
Program Benefits:
Content:
---
Upcoming Workshops
| | | | | | |
| --- | --- | --- | --- | --- | --- |
| Name | Date | Time | Location | Available Spaces | |
| Public ( FMSLC ) Provide an Emergency First Aid Response in an Education and Care Setting | 22 June 2021 | 08:00 am - 05:00 pm | Fremantle SLSC - 20 Leighton Beach Boulevard, Fremantle | 0 | |
| Public ( Balcatta ) North Metro TAFE - Provide an Emergency First Aid Response in an Education and Care Setting | 29 June 2021 | 08:00 am - 05:00 pm | North Metro TAFE students | 2 | |