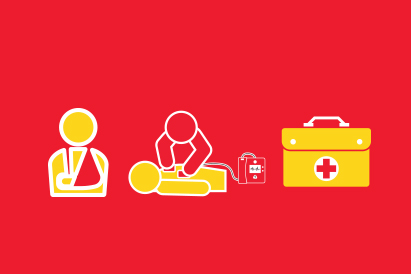 HLTAID003 PROVIDE FIRST AID
Duration – 1 day
Cost –

$185

NEW, special price – $145!
PLEASE NOTE: If you have booked into an HLTAID003 Provide First Aid course, HLTAID001 Provide Cardiopulmonary Resuscitation (CPR) is included in this course. It is therefore not necessary to book into the CPR course separately.
View upcoming workshops below.
Target Audience:
Learning Outcomes:
Learning Methods:
Program Benefits:
Content:
---
Upcoming Workshops
| | | | | | |
| --- | --- | --- | --- | --- | --- |
| Name | Date | Time | Location | Available Spaces | |
| Public (Balcatta) - Provide First Aid | 9 March 2021 | 08:00 am - 05:00 pm | SLSWA - 7 Delawney St, Balcatta | 1 | |
| Alkimos Residents - Provide First Aid | 13 March 2021 | 08:00 am - 05:00 pm | Alkimos Pop Up Library, Graceful Boulevard | 12 | |
| Public (FMSLSC) - Provide First Aid | 18 March 2021 | 08:00 am - 05:00 pm | Fremantle SLSC - 20 Leighton Beach Boulevard, Fremantle | 0 | |
| Public (Balcatta) - Provide First Aid | 24 March 2021 | 08:00 am - 05:00 pm | SLSWA - 7 Delawney St, Balcatta | 0 | |
| Alkimos Residents - Provide First Aid | 27 March 2021 | 08:00 am - 05:00 pm | Alkimos Pop Up Library, Graceful Boulevard | 15 | |
| Public (Balcatta) - Provide First Aid | 8 April 2021 | 08:00 am - 05:00 pm | SLSWA - 7 Delawney St, Balcatta | 2 | |
| Alkimos Residents - Provide First Aid | 10 April 2021 | 08:00 am - 05:00 pm | Alkimos Pop Up Library, Graceful Boulevard | 15 | |
| Public (Balcatta) - Provide First Aid | 15 April 2021 | 08:00 am - 05:00 pm | SLSWA - 7 Delawney St, Balcatta | 5 | |
| Public (Balcatta) - Provide First Aid | 21 April 2021 | 08:00 am - 05:00 pm | SLSWA - 7 Delawney St, Balcatta | 5 | |
| Public (Balcatta) - Provide First Aid | 28 April 2021 | 08:00 am - 05:00 pm | SLSWA - 7 Delawney St, Balcatta | 2 | |
| Public (FMSLSC) - Provide First Aid | 29 April 2021 | 08:00 am - 05:00 pm | Fremantle SLSC - 20 Leighton Beach Boulevard, Fremantle | 5 | |
| Alkimos Residents - Provide First Aid | 1 May 2021 | 08:00 am - 05:00 pm | Alkimos Pop Up Library, Graceful Boulevard | 15 | |
| Alkimos Residents - Provide First Aid | 15 May 2021 | 08:00 am - 05:00 pm | Alkimos Pop Up Library, Graceful Boulevard | 15 | |
| Alkimos Residents - Provide First Aid | 5 June 2021 | 08:00 am - 05:00 pm | Alkimos Pop Up Library, Graceful Boulevard | 15 | |
| Alkimos Residents - Provide First Aid | 19 June 2021 | 08:00 am - 05:00 pm | Alkimos Pop Up Library, Graceful Boulevard | 15 | |