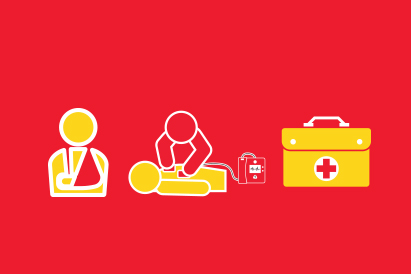 HLTAID003 PROVIDE FIRST AID
Duration – 1 day
Cost –

$185

NEW, special price – $145!
PLEASE NOTE: If you have booked into an HLTAID003 Provide First Aid course, HLTAID001 Provide Cardiopulmonary Resuscitation (CPR) is included in this course. It is therefore not necessary to book into the CPR course separately.
ALSO NOTE:
Due to the introduction of the requirement for a USI
we are not able to issue certificates on the day of training.
We will endeavour to e-mail them to you individually as close to the completion of the course as possible. If you require it urgently please plan accordingly by enrolling in a course that allows a minimum of 10 days for you to receive your certificate.
View upcoming workshops below.
Target Audience:
Learning Outcomes:
Learning Methods:
Program Benefits:
Content:
---
Upcoming Workshops
| | | | | | |
| --- | --- | --- | --- | --- | --- |
| Name | Date | Time | Location | Available Spaces | |
| Public (FSLSC)-Provide First Aid | 22 June 2021 | 08:00 am - 05:00 pm | Fremantle SLSC - 20 Leighton Beach Boulevard, Fremantle | 0 | |
| Public (Balcatta)-Provide First Aid | 29 June 2021 | 08:00 am - 05:00 pm | 7 Delawney Street, Balcatta SLSWA | 3 | |
| Public (FSLSC)-Provide First Aid | 1 July 2021 | 08:00 am - 05:00 pm | Fremantle SLSC - 20 Leighton Beach Boulevard, Fremantle | 4 | |
| Public - (Balcatta) Provide First Aid | 14 July 2021 | 08:00 am - 05:00 pm | Surf House, 7 Delawney Street, Balcatta | 2 | |
| Alkimos - Provide First Aid | 17 July 2021 | 08:00 am - 05:00 pm | St James Chapel - Alkimos | 15 | |
| Public - (FSLSC) Provide First Aid | 29 July 2021 | 08:00 am - 05:00 pm | 20 Leighton Beach Bouvelvard, Fremantle | 5 | |
| Public - (Balcatta) Provide First Aid | 3 August 2021 | 08:00 am - 05:00 pm | Surf House, 7 Delawney Street, Balcatta | 5 | |
| Public (FMSLSC) Provide First Aid | 11 August 2021 | 08:00 am - 05:00 pm | Fremantle SLSC - 20 Leighton Beach Boulevard, Fremantle | 5 | |
| Alkimos Residents - Provide First Aid | 14 August 2021 | 08:00 am - 05:00 pm | St James Chapel - Alkimos | 15 | |
| Public (Balcatta) Provide First Aid | 19 August 2021 | 08:00 am - 05:00 pm | Surf House, 7 Delawney Street, Balcatta | 1 | |
| Public - (FMSLSC) Provide First Aid | 31 August 2021 | 08:00 am - 05:00 pm | Fremantle SLSC - 20 Leighton Beach Boulevard, Fremantle | 5 | |
| Public (Balcatta) Provide First Aid | 8 September 2021 | 08:00 am - 05:00 pm | Surf House, 7 Delawney Street, Balcatta | 5 | |
| Public (FSLSC) Provide First Aid | 17 September 2021 | 08:00 am - 05:00 pm | Fremantle SLSC - 20 Leighton Beach Boulevard, Fremantle | 5 | |
| Public (Balcatta) Provide First Aid | 23 September 2021 | 08:00 am - 05:00 pm | Surf House, 7 Delawney Street, Balcatta | 5 | |
| Alkimos Residents - Provide First Aid | 25 September 2021 | 08:00 am - 05:00 pm | St James Chapel - Alkimos | 15 | |
| Public (FSLSC) Provide First Aid | 30 September 2021 | 08:00 am - 05:00 pm | Fremantle SLSC - 20 Leighton Beach Boulevard, Fremantle | 5 | |
| Public (Balcatta) Provide First Aid | 7 October 2021 | 08:00 am - 05:00 pm | Surf House, 7 Delawney Street, Balcatta | 5 | |
| Public (FSLSC) Provide First Aid | 13 October 2021 | 08:00 am - 05:00 pm | Fremantle SLSC - 20 Leighton Beach Boulevard, Fremantle | 5 | |
| Public (Balcatta) Provide First Aid | 20 October 2021 | 08:00 am - 05:00 pm | Surf House, 7 Delawney Street, Balcatta | 5 | |
| Alkimos Residents - Provide First Aid | 23 October 2021 | 08:00 am - 05:00 pm | St James Chapel - Alkimos | 15 | |
| Public (FSLSC) Provide First Aid | 28 October 2021 | 08:00 am - 05:00 pm | Fremantle SLSC - 20 Leighton Beach Boulevard, Fremantle | 5 | |
| Public (Balcatta) Provide First Aid | 10 November 2021 | 08:00 am - 05:00 pm | Surf House, 7 Delawney Street, Balcatta | 5 | |
| Public (FSLSC) Provide First Aid | 17 November 2021 | 08:00 am - 05:00 pm | Fremantle SLSC - 20 Leighton Beach Boulevard, Fremantle | 5 | |
| Alkimos Residents - Provide First Aid | 20 November 2021 | 08:00 am - 05:00 pm | St James Chapel - Alkimos | 15 | |
| Public (Balcatta) Provide First Aid | 24 November 2021 | 08:00 am - 05:00 pm | Surf House, 7 Delawney Street, Balcatta | 5 | |
| Public (Balcatta) Provide First Aid | 2 December 2021 | 08:00 am - 05:00 pm | Surf House, 7 Delawney Street, Balcatta | 5 | |
| Public (FSLSC) Provide First Aid | 7 December 2021 | 08:00 am - 05:00 pm | Fremantle SLSC - 20 Leighton Beach Boulevard, Fremantle | 5 | |
| Alkimos Residents - Provide First Aid | 11 December 2021 | 08:00 am - 05:00 pm | St James Chapel - Alkimos | 15 | |
| Public (Balcatta) Provide First Aid | 19 January 2022 | 08:00 am - 05:00 pm | Surf House, 7 Delawney Street, Balcatta | 5 | |
| Public (FSLSC) Provide First Aid | 21 January 2022 | 08:00 am - 05:00 pm | Fremantle SLSC - 20 Leighton Beach Boulevard, Fremantle | 5 | |
| Public (Balcatta) Provide First Aid | 10 February 2022 | 08:00 am - 05:00 pm | Surf House, 7 Delawney Street, Balcatta | 5 | |
| Public (FSLSC) Provide First Aid | 24 February 2022 | 08:00 am - 05:00 pm | Fremantle SLSC - 20 Leighton Beach Boulevard, Fremantle | 5 | |
| Public (Balcatta) Provide First Aid | 2 March 2022 | 08:00 am - 05:00 pm | Surf House, 7 Delawney Street, Balcatta | 5 | |
| Public (FSLSC) Provide First Aid | 10 March 2022 | 08:00 am - 05:00 pm | Fremantle SLSC - 20 Leighton Beach Boulevard, Fremantle | 5 | |
| Public (Balcatta) Provide First Aid | 16 March 2022 | 08:00 am - 05:00 pm | Surf House, 7 Delawney Street, Balcatta | 5 | |
| Public (FSLSC) Provide First Aid | 25 March 2022 | 08:00 am - 05:00 pm | Fremantle SLSC - 20 Leighton Beach Boulevard, Fremantle | 5 | |